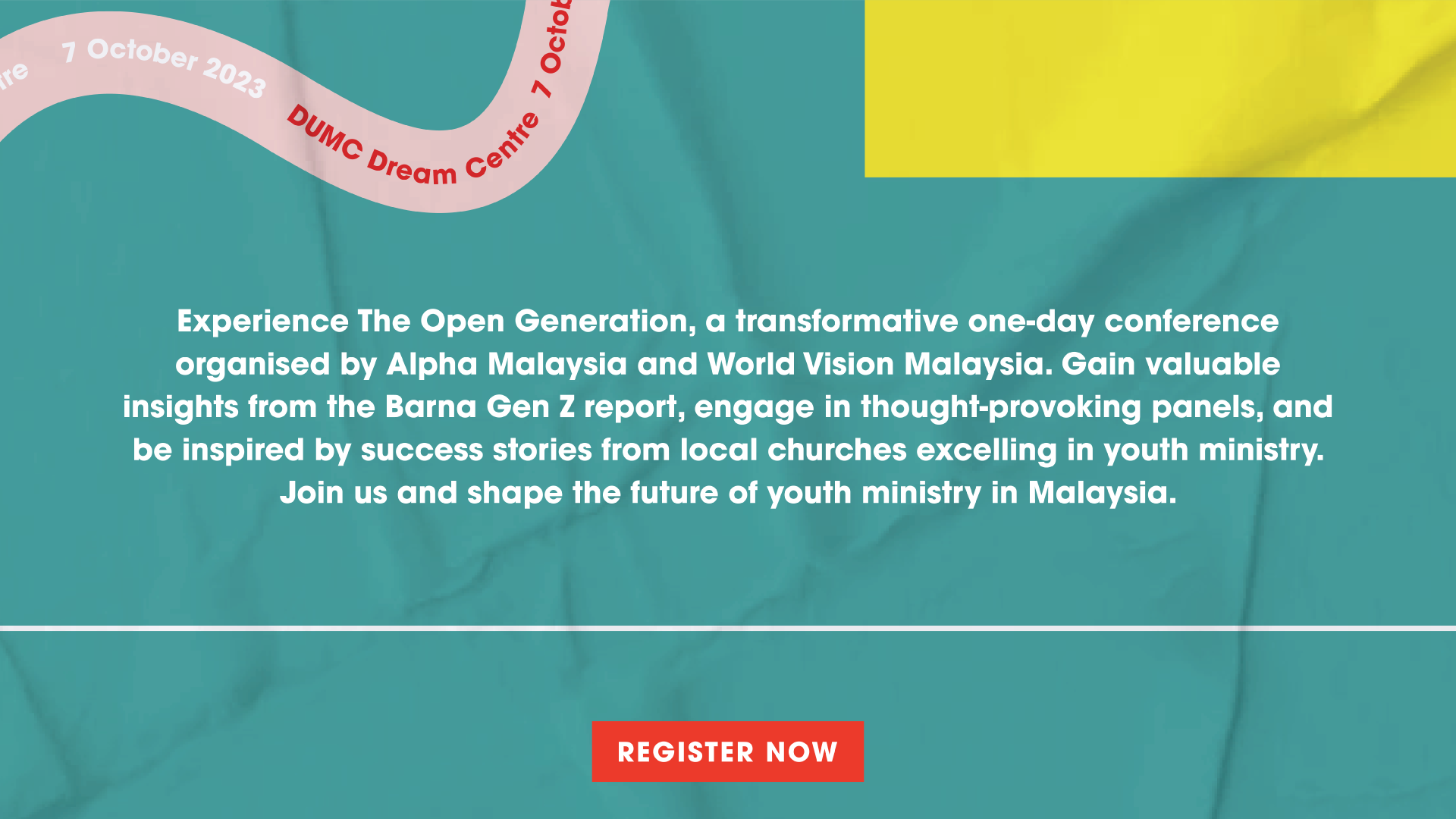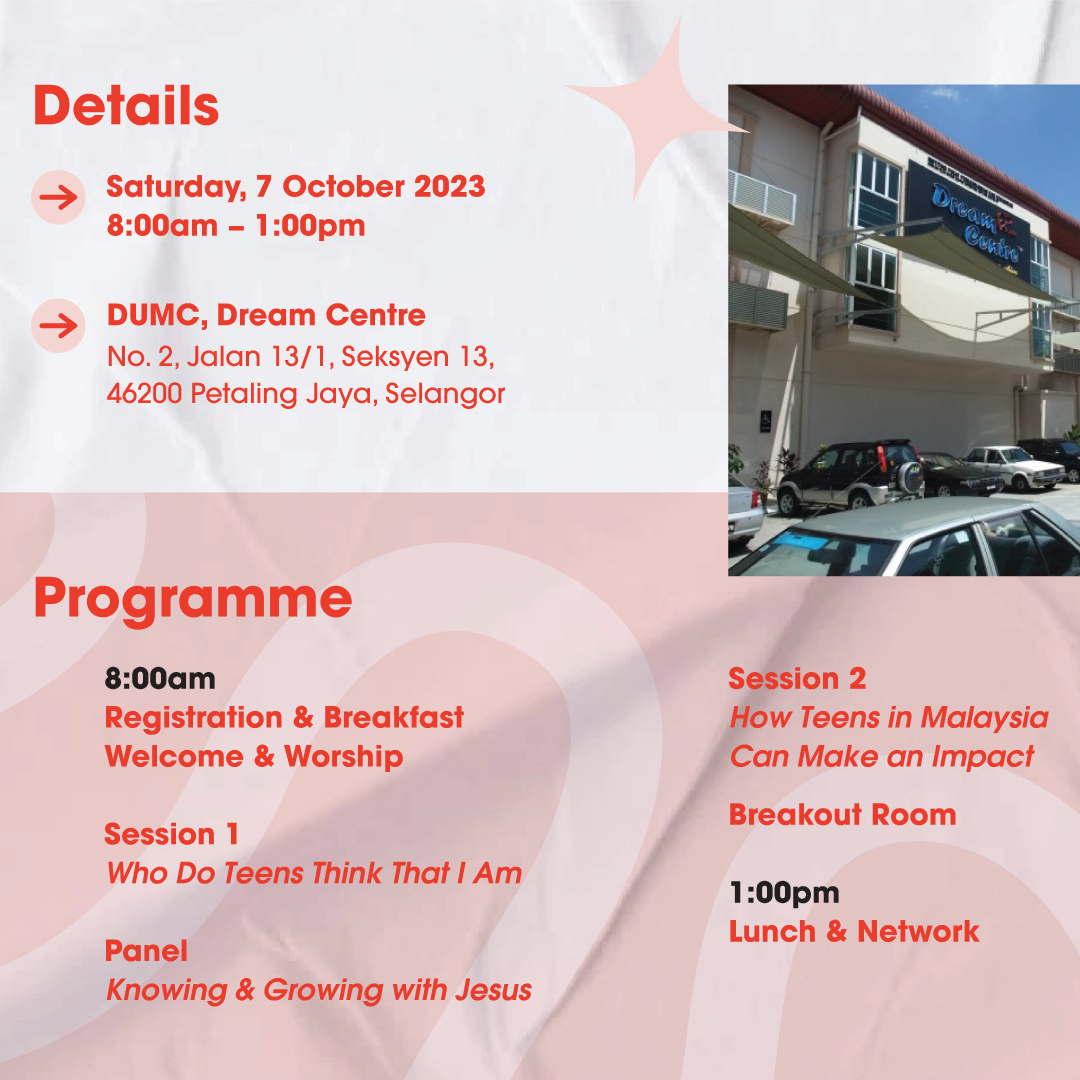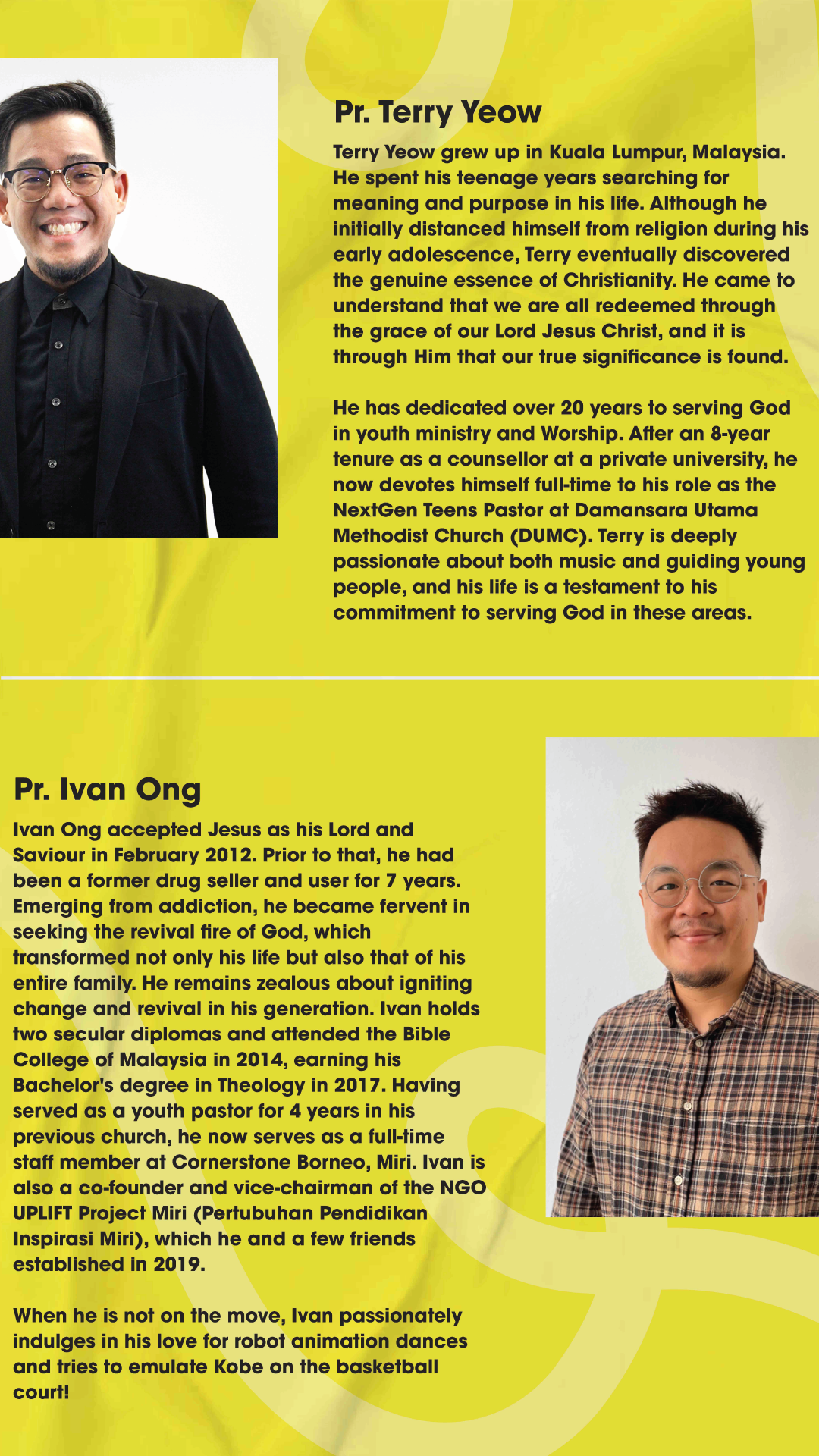 FAQ
Who is this conference for?

The conference is for any youth workers, pastors, teachers, parents and colleagues who is interested to know more about Gen Z.
Why is this conference different?

The Open Generation Conference aims to address a common concern among youth ministries: the disengagement of teens from church and youth ministries and how we can adapt these ministries to connect with them in the present context.

Gen Z is deeply invested in social issues, and one key reason for their disengagement is the perception that churches do not have a significant impact in addressing these concerns.

The curated content and networking opportunities of the conference will assist you in developing ideas, inspirations, and data-driven decisions for your youth ministry. By signing up for the event, you will also receive a physical copy of the Malaysian survey.
Gen Zs will take the stage!

We are ensuring that this conference is not only about Gen Zs but also co-led by Gen Zs.

The panel will feature Gen Zs themselves and Youth Pastors from different parts of Malaysia, who will discuss specific topics. We firmly believe that Gen Z has much to offer the church, and we are thrilled to create a learning environment centered around their experiences and perspectives.
What does the registration fee cover?

The registration fee covers:
1. Admission for the conference per delegate
2. Light breakfast on a first come first served basis and Lunch
3. A copy of the Barna Report
I can't proceed with the payment, help!
I can't join the conference due to unforseen circumstances. How should I cancel my registration?

Would you like to consider gifting your ticket to a friend? You can write to [email protected] to inform us the following details of the participant replacing you:
1. Your registration reference number
2. Name of the substitute participant as per MyKad
3. Contact number:
4. Email address:
5. Mailing address

Where the registrant is unable to attend, and is not in a position to transfer his/her place to another person, then the following refund arrangements apply:
1. Write an email notification to [email protected]
2. Please provide with your bank account detail [Account Owner Name, Account Number and name of the bank]
3. Registrations cancelled before 18 September 2023 is refundable but subject to a RM 7 administrative fee.
4. Registrants canceling on or after 18 September 2023 will not receive a refund. However, the ticket is transferable.

Feel free to write to [email protected] for further inquiries.
I have a group of people interested to join. What should I do for batch registration?

We have a group registration capped at 5 pax, which can be purchased until 17 August. Please feel free to purchase the "Group of 5" tickets at a discounted rate. For any purchases made from 18 August onwards, tickets have to be bought individually, and at normal rate of RM 40.00.

For further enquiries on this matter, please email us at [email protected]
Can my child(ren) (aged 12 and below) join me at the conference?

We do not have children's programme at this conference, hence, your child (aged 12 and below) has to be with you at all times. We do not provide meals for your child(ren). Any individual aged 13 and above will require a ticket for entry to the hall.
Any translation provided during the conference takes place?

The entire conference will be conducted in English and translation is not available.
What is the parking rate?

You can park at the next building, Symphony Square, where it is a flat rate of RM 3.00 on weekends.
Do you accept walk-in registration?

The ticket price for walk-in registration is at RM 40.00 (Lunch and Barna Report will not be provided, as priority will be given to those who have registered). Please do register prior to the conference so that you can receive a copy of the Barna Report.
I made a mistake in the payment. What should I do?

Please email us at [email protected] and we will get back to you as soon as we can on this matter.